And what a bunch of characters they were....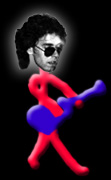 Mike McAdam
Currently calling Nashville, TN home, Mike keeps himself relatively out of trouble by touring and recording with Radney Foster and Lee Roy Parnell. He and ex-Humorhoid Jack Irwin own and operate Silvertone Studios which keeps them busy with demo and record projects. At least when they're not recording studio tracks for the Good Humor Band CD. In his spare time Mike scours the pawn shops, where he's on a first name basis with all the owners, looking to add to his collection of vintage guitars, amplifiers, and recording equipment which takes up every available inch of what used to be free space in his house.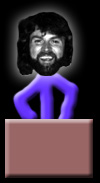 Gregg Wetzel
Living in Nashville, Gregg's world revolves around Harleys, Indians (the motorcycles, not the Native Americans), pianos, and his son Jake. He plays on the weekend with a number of bands in the Nashville area including his own, The Paramours, staying busy during the week working in the communications business.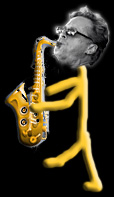 Joe McGlohon
After spending three years in Paris (France, not Texas) performing with a house band at EuroDisney (Ooh la la!), Joe moved back to the U.S. and now lives in a state of confusion. He prefers to call it Nashville. But what does he know, he's the one who's confused. When not tending Delbert McClinton's garden he's been playing with T. Graham Brown, Jimmy Thackery, Lee Roy Parnell, and (hang onto your CAT hat) The Mighty Rack of Spam.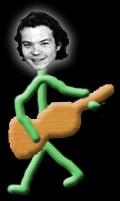 Drake Leonard
On almost any given night you can drop into the "World's Most Famous Honky Tonk," Tootsie's in Nashville, and find Drake Leonard playing bass in the house band. And believe it or not, they're not standing behind a chicken wire fence either. If he's not there it's because he's out playing with David Ball or being bandleader for Sherri Austin. He's working on cloning himself so he can take on a few more gigs, which will definitely scare Congress into outlawing the procedure.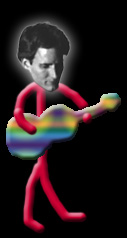 Mike Lucas
Mike's still hanging his cowboy hat in Richmond, VA, where he manages to fill his time with his woodworking business, playing with his band The Reverb Rockets, and re-reading Being A New Father For Dummies for the umpteenth time. He can be heard playing guitar on TV and radio commercials, on a movie soundtrack he recorded with Bruce Hornsby, and singing songs he's written for his band, all of which are just excuses to keep in shape for the annual GHB shows.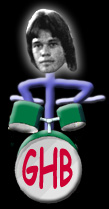 David Eggleston
The Eggman has staked out his forty acres and a mule in Raleigh, NC where he's a tenured professor of Marine Biology at North Carolina State University. That's right, it's Dr. Eggs to you. His work takes him all over the world and his family keeps him anchored. It never takes much arm twisting to get him to join the annual GHB shows and he's still as rock (lobster) steady as ever behind the drums.
Bucky Baxter
A pedal steel player from New Jersey. Who would of thought it? Bucky joined the Good Humor Band in 1979 after a stint with Evan Johns' Cold Steel Benders in Nashville. Since leaving the band he's recorded and/or toured with Steve Earle and the Dukes, REM, Suzy Bogguss, Jim Lauderdale, Bob Dylan, and others. He lives in Nashville where he plays in studio and on the road as well as operates his own recording studio. For more, check out his web site.
Evan Johns
Raised in the Washington, DC area, Evan bought his first guitar, a B-25 Gibson, when he was in 7th grade. While playing in his band, the Cold Steel Benders, he was hired by guitar wizard Danny Gatton. From there he joined the Good Humor Band, leaving to start his own band, Evan Johns and the H-Bombs. He's recorded with innumerable artists, collaborated with top songwriters, and was part of the Grammy-nominated Big Guitars from Texas album Trash, Twang & Thunder. At last report he's in Florida—or maybe Austin—and has several albums scheduled to come out on Big Cypress Records. For more, check out his web site.
Bruce Bouton
A native of Washington, DC, Bruce began playing pedal steel in 1973 when he was a student at Virginia Commonwealth University in Richmond, Virginia. Within a year he was playing with the Good Humor Band. In 1978 he moved to Nashville and started playing with Dottie West when she was touring with Kenny Rogers. Since then he's played with artists including Lacy J. Dalton, Ricky Skaggs, Kathy Mattea, Mel Tillis, Foster & Lloyd, and Shania Twain. Songs he's written or co-written have been recorded by T. Graham Brown, Garth Brooks, Mark Collie, and Brooks & Dunn. More gory details can be found at Pedalhead.com.
Danny Gatton
Known as "The World's Greatest Unknown Guitarist," Danny's technique was stunning, not to mention his ability to synthesize an incredibly broad range of styles. Born in Washington, D.C, he formed his first band, the Offbeats, in 1959. He started and stopped his career more times than anyone can keep track of, playing for a few years then spending time as a body and sheet metal worker. His coming out was probably with the band Redneck Jazz Explosion, which featured Buddy Emmons on pedal steel guitar and Evan Johns on vocals. Their 1978 album, Redneck Jazz, is a classic. He went on to play with artists including Commander Cody, Roger Miller, Billy Hancock, Robert Gordon, and of course, the Good Humor Band. Danny committed suicide in 1994 and is sorely missed. More about Danny and photos of the 1998 two-night Tribute to Danny Gatton are here.
Steve Bassett
On his own, with Delbert McClinton, or alongside that wild and wacky Good Humor Band, Steve continually proves that he's "one of the blackest white R&B singers you'll ever experience." Yup, he's a one-man minority group. He's also one of the few people to write a song which may yet become the Virginia State Song, Sweet Virginia Breeze (co-written with Robbin Thompson). He has a Hammond B-3 named Bertha, a tour bus which runs, and a sometimes band called the Mystic Soul Bubbas. And yes, they were named that long before that Clinton guy made the word popular. And we don't mean "soul." There's more here.
Mad Dog
Wandering the world aimlessly but based out of San Francisco, Mad Dog's been writing a weekly humor column since 1996 blah blah blah published a novel (Skywriting at Night), blah blah blah, a compilation of his humor travel columns (If It's Such a Small World Then Why Have I Been Sitting on This Airplane For Twelve Hours?), blah blah blah co-wrote Stand Tall, the autobiography of the former chief of police of Detroit blah blah blah writes web sites to make ends meet (including this one), blah blah blah and has a popular web site, the Mad Dog Weekly. Forget about Croc O'Shirt, Earl the Dead Cat, Silent Vigil Foam Rubber Wind Chimes, the Tacky Xmas Decoration and Grand Highly Illuminated House Tour, blah blah blah. That's history. Get over it.
Johnny O'Brien
The last confirmed O'Brien sighting was July 4th when he boarded an airplane in New Orleans to spend the summer in Jamaica. Four days later rival gangs in Kingston launched an insurrection. The State Department says there's no connection. When he's not causing international incidents, Johnny rebuilds pianos in New Orleans, St. Ann's Bay, Jamaica, and Bloomington, Indiana. He also plays piano in and around Nawlins and spends as much time as possible on Leda, which is a 38-foot sailboat which he keeps on Lake Pontchatrain. Get your mind out of the gutter, will ya?
Manny Green
The former Bill Gerloff has legally changed his name to Mr. Entertainment.
Missing in Action
Herbie Atkinson
Nancy Louise Atkinson
Mark Corvino
Tina Fortunata
Jack Irwin
Buzz Montsinger
Jimmy Morgan
Randy Murphy
Glenn Pavone
Craig Robertson