"This is what God intended when he created rock 'n' roll."
- Style Weekly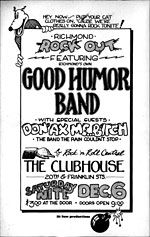 The Good Humor Band was a Virginia institution. Okay, so was Eastern State Hospital, but to the best of our knowledge none of the band was ever institutionalized there. For nine years they tore up bars along the East Coast, both figuratively and literally. We can say that now since the statute of limitations has run out. We hope.
Some 24 people played in the band at one time or another, with Mike McAdam being the one person who was there in the beginning and at the end. That says a lot about him, though it's scary to think what that might be. Members are scattered across the country (as well as playing in that Great Rock 'n' Roll Band in The Sky) though they're centered around Nashville, where they've gone on to record and tour with some of music's greatest. Yup, there's a list at the bottom of this page if you're interested.
Now they have a CD out. And this Web site. Who ever would have thought the Sunday Night Drunk Club in Sam Miller's Exchange Cafe would come to this?
---
Some of the artists the Good Humor Band went on to record and/or tour with include: Steve Earle • Mary Chapin Carpenter • Radney Foster • Foster and Lloyd • Jim Lauderdale • Bob Dylan • Los Lobos • R.E.M. • The Mavericks • Neil Diamond • Charlie Major • Chuck Berry • David Ball • Delbert McClinton • The Beastie Boys • Robert Gordon • Shania Twain • Sherrie Austin • Sara Evans • Johnny Paycheck • B.J. Thomas • Joy Lynn White • Southside Johnny • Mel Tillis • Pam Tillis • Steve Forbert • Sheryl Crow • Ryan Adams • Patty Loveless • The Nighthawks • John Anderson • T. Graham Brown • Reba McEntire • The Bluebloods • Gregg Allman • Tricia Yearwood • Greg Trooper • Charlie Robison • Matraca Berg • The Judds • Garth Brooks • Ricky Van Shelton • Merle Haggard • Willie Nelson • Lee Roy Parnell • Deana Carter • Amy Rigby • Jack Ingram • Ricky Scaggs